Are you looking for a summer camp in Scranton? Macaroni Kid Scranton proudly presents our 2021 Summer Camp Guide. Find out all about the summer camps in Scranton, PA here!

Here are some articles to decide which camp is right for you:
Even More for Summer Fun
---

---

Dr. Kristin Bewick
(570) 371-5190
learnmoreservices@aol.com
https://learnmoreservices.com
LearnMore Services offers individualized and small group academic programs to help people of all ages become fully engaged in the learning process. Children, students, adults, and families receive customized assessments and professional engagement to help them fully develop based on their strengths and needs. LearnMore Services offers a wide variety of flexible and unique services all throughout the year including academic tutoring, homework help, cognitive retraining, multisensory reading, strategy development (time management, memory, attention, and organizational skills), study methods, SAT/ACT Test Prep., and High School Entrance Exam Prep. With an emphasis on developing strategies, LearnMore Services teaches HOW to learn and not just "what" to learn. Strategies include methods from the "Brainwave-Rehabilitation Program" and "Strategy Training Program" authored by owner and director, Dr. Kristin Bewick.
The summer months can provide a unique advantage for students to participate in LearnMore Services programs. All programs continue to be available during the summer. Consider giving your child a jump start for the new school year or reinforcing learning from the previous grade. The summer is also an opportune time for high school students to focus on ACT and SAT test preparation. Give Dr. Bewick a call at 570-371-5190 or email learnmoreservices@aol.com to discuss your ideas and needs.
---
Jennifer L. Severini-Kresock, MS
(570) 702-5700
jkresock@NEPACareerandCollegeCounseling.com
NEPA Career and College Counseling Associates is a private career and college planning business. Students can receive help with the college admissions process, scholarship search, career search, athletic recruitment, auditioning at art schools, creation of college portfolio, letters of recommendation, resumes, and essay preparation.
My goal is to ensure each student's fullest potential in the admissions process can be reached.
Dedicated and Reasonable Personal Assistance–on your schedule — unlimited access through phone calls, emails, and appointments (24/7). Appointments available after school, evenings, weekends, in-person, or on-line (via Zoom).
My mission is to provide excellence in helping all students make the best possible career and college decisions. Through my comprehensive career and college planning program, I can cater to the individual needs of all students as they prepare for their educational futures. It is my mission to give all students the necessary dedicated professional experience that they deserve.
After twenty-plus years as a high school guidance director/counselor in the public school system, Jennifer Severini-Kresock recognized the growing need for individualized college preparatory services. With even more cuts to educational budgets, the ability to adequately guide students to their highest potential of college and career preparation becomes even more fragmented, often resulting in missed opportunities or less-than-desired outcomes.
Regardless of the level or ability of a student, reaching the highest possible desired outcome is what NEPA Career and College Counseling Associates strives to do with dedicated excellence.
As the lead counselor of NEPA Career and College Counseling Associates which she founded in 2012, Jennifer Severini-Kresock brings her passion for helping to mold ideal college candidates.
Jennifer received a Bachelor of Science degree cum laude in Clinical Psychology and a Master of Science degree in Secondary Counselor Education from Marywood University. She has spent countless hours engaging in Professional Development activities, including conferences, college visits, and web-based learning opportunities.
She has lectured on the university level and has been cited for her professional excellence by several organizations in the industry. She is thrilled to bring her expertise and enthusiastic drive to help students make their educational and career dreams into reality.
TESTIMONIALS:
Jennifer is awesome!! We couldn't have gone through the college process without her. She's always available to answer any questions that we have. We recommend her to anyone getting ready for college!! Well worth every penny!!! (Trina and Timothy Lavelle)
We have been thrilled with NEPA Career and College Associates. Ms. Jennifer has helped us navigate our son's way to the college of his choice. She has been available to him for questions, guidance, etc. 24 hours a day, 7 days a week. She is also helping our younger child find the right career path and college for her. Our only regret with NEPA Career and College Associates is that we didn't sign our children up sooner! (Jennifer and Ron Pitts)
The service provided is worth every penny. Can't imagine trying to navigate through all the do's and don't without Jennifer's expert guidance. Help with the financial aid application process alone, which is a nightmare I am sure we would have completely botched, would have been enough. CCCA provides so much more, from deciding on a career path to arranging school visits and providing essay writing strategy advice, Jennifer demystifies all of it from start to finish. The decision to engage CCCA is one we would make again without any reservations. (Allan and Ann Marie Borgacci)
---
217 Scranton Carbondale Hwy, Scranton, PA
(570) 933-6278
https://www.mathnasium.com/dicksoncity
Mathnasium of Dickson City is your math-only learning center that fills in knowledge gaps, keeps students caught up in school, and makes learning math fun.
Using the Mathnasium Method™, knowledgeable instructors teach face-to-face, providing the attention and support children need. A unique combination of mental, verbal, visual, tactile, and written techniques ensures that any child can learn to excel at math. "We don't rely on memorization or drilling. Mathnasium students receive the true foundational understanding they need to build number sense — an intuitive understanding of how numbers work, And while we help struggling students develop into 'A' students, we also help 'A' students go on to even greater achievements. The transformation in these children extends beyond the math classroom; they gain the confidence to take on the world. As educators, we're thrilled to be able to have this impact."
Mathnasium is also offering face-to-face, expert instruction so kids can learn math from the comfort of their own homes. Mathnasium@home features the same experience with highly trained instructors and Mathnasium Method ™ as in learning center, but live through a computer.
---

---
1817 North Main Ave, Scranton, PA
(570) 963-5477
Join us at United Sports Academy Trampoline & Tumbling for a Summer of Fun with our 6 weeks of Summer Camps! These half-day camps will not only teach you the basics of gymnastics, ninja, and tumbling but will include trampolines, Zumba, fitness, hip hop dance, games, and more! New this year we will include THEME WEEKS to learn a variety of new topics and crazy crafts! Pick your favorite week or do all 6!
All summer camps are held at our air-conditioned Scranton location (1817 North Main Ave) The camps will run from July 5th to August 20th. There is a half day 9am-12 pm option or a full-day 9am-3 pm option.
We have multi-student and multi-week discounts! Ask about our extended drop-off hours!
Campers will enjoy a full curriculum in which they will be learning the sport itself, as well as gain education on health & wellness, nutrition, fun-ditioning, crafts, and more. All camps run with a break for snack and Friday is pizza party! Upon completion, each child will receive a free, limited-time camp t-shirt!
Find out more about United Sports Academy Summer Camps here.
---
YMCA Scranton
The YMCA offers a summer camp for children ages 4 thru 8th Grade. Camp runs from 8:00 AM to 5 PM Monday thru Friday. They offer both before and aftercare for an additional fee. The activities include, but not limited to, swimming, arts and crafts, gym time, playground time, guest speakers, and much more! Go here to download the flyer.
Register early because spots fill fast!
---

---
601 Jefferson Avenue, Scranton, PA 18510
(570) 346-6595

JCC Camp Daleville is a community where children come first! Our number one priority is ensuring that your camper has a fun, safe, positive, memorable experience. Campers hone interpersonal skills, achieve personal growth, gain a sense of independence, and adventure. Instilling positive values and building life skills in a fun, safe environment while fostering independence, creating lasting friendships, and making memories is our mission!
Our campers enjoy programs in an outstanding environment with great facilities that include a heated in-ground swimming pool, a 20-acre lake, basketball & volleyball courts, ball fields, tetherball courts, playgrounds, an archery range, hiking and biking trails, an auditorium and stage, picnic pavilions, arts and crafts center and more!
Health and safety of the campers and staff is our number one priority. Prior to and during the 2021 Camp season we will go above and beyond in making sure our camp is as safe as possible for your children. With the COVID-19 pandemic, we understand you may have many questions in regards to how we will be operating our camp. Please click here to review our camp FAQ's (Frequently Asked Questions).
Our registration process is exclusively online. Click here to register online.
Everyone is welcome at JCC Camp Daleville!
For more information, you can contact Camp Director Vince Kalinoski at vkal3@scrantonjcc.org or 570-346-6595 ext. 115.
---
640 Orange Road, Dallas, PA 19612
(570) 333-4098
Experience Camp Orchard Hill's Best Week Ever Day Camp, the Gold Daisy Award Winner for most loved Summer Camp in the Wilkes Barre area! To meet the growing demand, we've extended our 2020 transportation options for families in Duryea, Scranton and Clarks Summit! We make it our goal to serve both campers and parents with an engaging program and a convenient, flexible structure to match your family needs. We also serve children with mild to moderate special needs in an inclusive setting. (See our website for more details!)

At Best Week Ever Day Camp:
Your child's safety comes first with a registered nurse on site 24/7, certified lifeguards and staff trained in CPR and First Aid.
We require a complete set of safety clearances for every employee including PA Criminal Record, PA Child Abuse, and FBI Background checks.
Our staff are hand-selected and then carefully trained to serve you with excellence!
Our air-conditioned facilities include a 12,000 square foot gymnasium and game room, Olympic-sized swimming pool, private Lake Manjo, newly remodeled snack shop, and our gorgeous Lakeview Terrace dining room!
Our food service team will happily accommodate special dietary requirements.
Our daily program is designed to build strong and healthy friendships and to test the limits of adventure and creativity! We engage campers of every age to make it their Best Week Ever!
What Families are Saying:
"I just wanted to say thank you! I know the days can be hot and long, but know that you are making the best memories for your campers. Sometimes it's not always what you say, but how you make them feel. And today we felt like we were welcomed into a family!" Day Camp Parent, 2018

For a preview of Best Week Ever Day Camp, bring your whole family to Open House 2019 on Sunday, May 5th from 1pm-4pm!
Find out more about Camp Orchard Hill here.
---
Comm Camp at Waverly Community House
1115 N Abington Road, Waverly, PA 18471
(570) 586-8191
Comm Camp is designed so children can have fun and make friends. With support from Overlook Estate Foundation, the Waverly Community House will host seven weeks of recreation, friendship and learning for that special summertime experience. Campers are grouped by age (preK thru 7th grade) and activities are planned accordingly. Each week of camp will feature a different theme. Comm Camp runs from June 24 through August 9.

COST PER CHILD PER WEEK:
Regular Camp (9am to 1pm) is $120
Extended Camp (1pm to 3pm) is an additional $50
Early Arrival (8am to 9am) is an additional $20
Extended Afternoon (1pm to 6pm) is an additional $90
Counselor in Training (grades 8, 9, 10) $350 for 3 or more weeks or $120 per week
Find out more about Comm Camp here.
---

---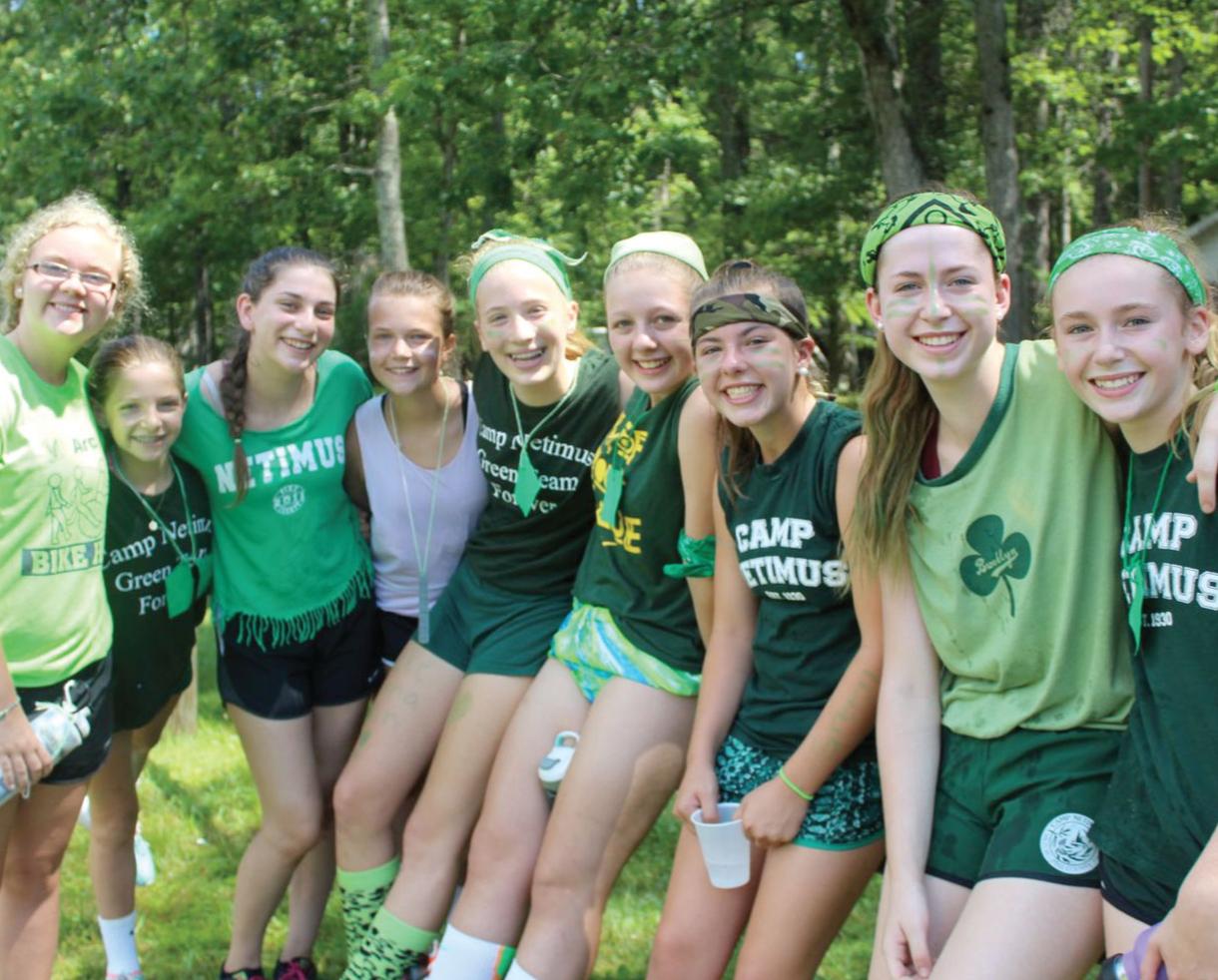 708 Raymondskill Road, Milford, PA 18337
(570) 296-6131
Darlene@netimus.com
Save 25% with CertifiKid deal
Camp Netimus, a residential summer camp for girls, located in the Pocono Mountains of Northeastern Pennsylvania, is home to 145 sleep-away campers and more than 80 staff members who come from across the United States and from countries around the world.
Campers can enjoy a variety of over 40 activities such as horseback riding, swimming, rock climbing, hiking, boating, canoeing, water skiing, sailing, mountain biking, tennis, photography, and crafts to name a few. Camp Netimus has been a Sleepaway camp for girls since 1930, and has helped thousands of girls have the summer camp experience of their life.
* This listing contains an affiliate link and Macaroni Kid Scranton receives a commission from purchases made through this link. Thank you for your support!
---

---
It's time to register for Summer Science Camps at Carriage Barn Academy! We will be following the CDC Guidelines so that our students and their families stay healthy and safe. Some of these guidelines include limiting our class size, daily temperature checks, frequent hand washing, hand sanitizing, and disinfecting as much as possible.
We are hosting 6 different themed science camps that will run this June (21-25) and July (19-23 & 26-30). Each camp is a half-day. There are morning sessions from 9AM-12PM and afternoon sessions from 1-4PM. Kids are welcome to stay for lunch if they are attending both AM and PM camps in the same week.
Session Options include: Let Us Romaine Calm and Garden On, Under the Sea, Safari Animals, Sticks & Stones, Author Art & Science, and Invention Convention.
Kids will discover the fun in science through various hands-on, educational, thematic activities, including edible science snacks, exciting experiments, and interactive experiences that will spark their interest and curiosity. They also have music with Dan, Dan, the Music Man every Friday.
‍Each program is $175 per child and it includes a light, edible science snack, and materials for all experiments, activities, and experiences. Since we are limiting the class size as the CDC Guidelines suggest, we encourage you to register soon to guarantee your child's spot in each camp. As you register you will receive a confirmation email and then you will receive more details as we get closer to camp sessions.
‍For details and registration, please go to www.carriagebarnacademy.com
If you have questions, you may call Chris at (570) 335-1750.
https://www.carriagebarnacademy.com/summer-camp
---
---

---
1188 Church Street, Moscow, PA
(570)-362-1056
Interested in learning an instrument? We've got you covered! Musical Dreams Studio offers private lessons in piano, voice, guitar, ukulele, drums, and flute. Musical Dreams was founded in February of 2009 and has been offering professional lessons at an affordable price ever since. Our teachers all hold degrees in music or are currently enrolled in collegiate-level music studies. They also have extensive performance experience. We teach all ages- children and adults, beginners through advanced level students! Lessons are tailored to individual needs and interests. Whether you are looking to study music and learn an instrument as a hobby, or work to a competitive level, we can help you achieve your goals. Do you have a toddler who loves music? Ask
about our Mini Music Club for your littlest musicians. Miss Megan loves to make music with our littles.
Here's what our families are saying: "At Musical Dreams I've had an incredible experience in the past several years. I'm motivated to keep learning and practicing, and I have a lot of fun while doing it! I learn more and more about technique and music theory every lesson, and I look forward to it each week. It's like a second home there, and I recommend it to anyone who wants professional yet fun music lessons!" ~Chloe C., age 13 (student)
"My son has been taking piano lessons and my daughter has been taking singing lessons. They both love their teachers and look forward to classes. They have both been learning and improving. The teachers really seem to care and try to work with you for your scheduling needs. Pricing is spot on as well." ~Crystal S. (Mom)
Our studio is conveniently located in Moscow, PA, right off of Route 380. Call us to schedule a tour of our studio and discuss making YOUR musical dreams a reality!
---


---



---
253 Scranton-Carbondale Hwy, Dickson City
570.507.1560
Ages 4 & up; Each week June 21 st – Aug 2nd
Whether you are a young artist ready to discover the elements of design and color mixing or a more experienced artist who wants to explore new techniques and mediums such as clay or faux stained glass, we have a camp for you! Each of our 5-day camps focuses on a different theme. Weather permitting, we will hold some or all of camp outside in front of the studio. Camp size max is 12 children.
We have some new themes this year and some old favorites. Even in our repeat camps, all projects are newly designed for this summer! Join us to explore crafting, using recycled materials in art, tie-dying, making your own collage papers, learning culinary recipes with fresh produce and so much more.
Our camps this year include:
Mixed Media & Crafting
Calendar Camp (one small 8x10 canvas board for each month of the year)
Fundamentals: Rainforest & Recycling
Focus on Female Artists
Farm to Easel (one art and one culinary project per day)
Find a description for each camp and more details (ages, cost, times) on our Calendar at spiritedartscranton.com.
* We are following CDC and PA Department of Health guidelines.
---

---
Tri-Star Academy will be offering their Summer Camp program at multiple centers this summer The camp will run from June 7 to August 20 and operating in Archbald (14 Kennedy Blvd.) and Jermyn (626 Madison Ave.).
We pledge to create a fun, safe, and unforgettable camp experience for all the children! Our eleven-week program consists of Theme Weeks that are designed to create exciting and new adventures along the way.
The Themes include- Fun & Safety, Spread Kindness, Time Travel, Spirit Week, Safari Adventure, Christmas in July, Under the Sea, Knowledge/STEM Week, Craft & Create, On the Farm, Out of this World, and the Olympics.
Our teachers and staff have crafted hands-on lessons that are educational and fun! Each week is filled with numerous activities and guest performers or speakers. Included in our line up is - Reptile Pete, Pizza Ron, Tiger Karate, Archbald Police Chief Trently and so much more!
We will be enjoying numerous field trips and visiting local parks every week. A weekly visit from the ice cream truck will help us stay cool.
Our centers are open Monday through Friday from 6:30am to 6:00pm. We offer a sibling discount for families with multiple children. Breakfast, lunch, and afternoon snack is provided and our centers participate in the CACFP Food Program to ensure your child receives well-balanced and nutritious meals. Our staff have all required Pennsylvania clearances and are CPR/First Aid certified.
Any questions regarding our program, call us at (570) 397-8064. Our email address is tristar.archbald@gmail.com. Registration is now open, so reserve your spot!
We can not wait to see you this summer! Happy Camping!
---

---
ONLINE ~ ALL AGES
The brand new Monster Jam Virtual Camp will run online July 27 through July 31, providing a daily curriculum of fun and educational activities that combine art, math, science, puzzle-solving, physical activity, and cooking - all centered around monster trucks, of course! There is no sign-up required, but you will need to have some supplies on hand to complete each day's activity (you can find those here). #MonsterJamAtHome
---
ONLINE ~ AGES 4+
Sketch here, sculpt there, paint anywhere! Inspire their love of art with an incredible virtual experience designed to inspire creativity and foster learning with an all-access pass from Young Art. Classes include Harry Potter, Pokemon, and Disney-themed lessons, Fashion Design, Clay sculpting, Sketching, Digital Art, Culinary Art, & more! Save 20% with a CertifiKid deal.
---
* This listing contains an affiliate link and Macaroni Kid Scranton receives a commission from purchases made through this link. Thank you for your support!
---
For EVEN MORE summer camp options,
visit our Macaroni Kid sister site:
---

To stay up to date with all the latest that Macaroni Kid has to offer, subscribe to our kid-friendly event calendar for families in Scranton.
For even more fun, find us on Facebook, Twitter, and Instagram.